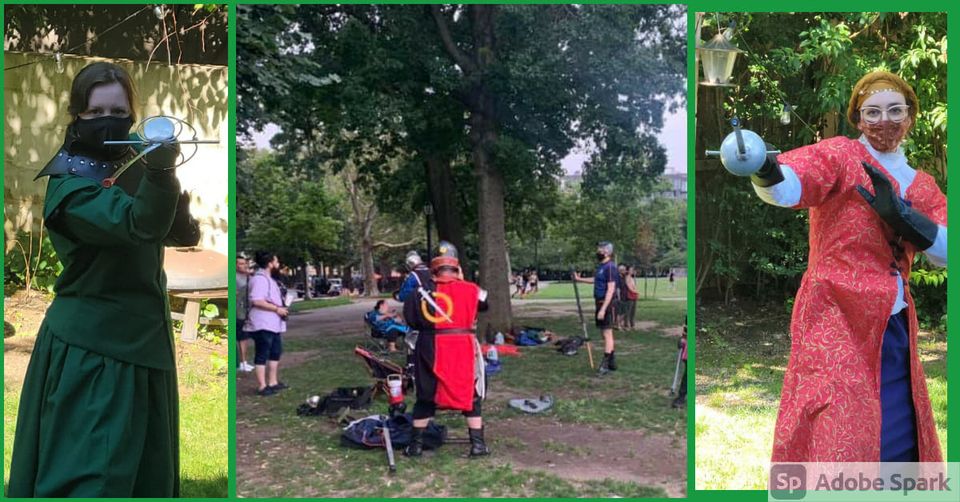 NOTE: With cold weather, the outdoor practice season has ended for the year. Please check out our Winter Indoor Fighter Practice: https://ostgardr.eastkingdom.org/winter-indoor-fighter-practice-2022/
——
Join the NYC chapter of the Society for Creative Anachronism for our weekly outdoor practice, held on Tuesdays (weather permitting) in McCarren Park.
Do you want to learn to fight like the knights of the middle ages? Our Armored Combat practice is a full contact sport. We fight with heavy wooden weapons made from rattan and wear metal and leather armor for protection.
Do you want to learn fine control of the blade like the duelists of the Renaissance? Our Historical Fencing practice is a limited-contact sport. We fight with light metal swords and wear protective gear and fencing masks to keep each other safe.
We meet on the third ballfield, close to the center entrance from Driggs Avenue; visit our directions page for maps: https://ostgardr.eastkingdom.org/directions/mccarren-park/
Newcomers are welcome! Please contact the provincial Knight Marshal, Lord Ervald at knightmarshal@ostgardr.eastkingdom.org or the provincial Fencing Captain, Lord Alexander at fencer@ostgardr.eastkingdom.org to confirm times for the practice and to arrange for loaner equipment.
As we move into cooler, wetter weather, please check the Østgarðr Facebook page or email the marshals above to confirm that the practice is happening.
As of October 1, 2022 there are no masking requirements, but those who wish to wear masks are welcome to do so.
Although the SCA complies with all applicable laws to ensure the health and safety of our event participants, we cannot eliminate the risk of exposure to infectious diseases during in-person events. By participating in the in-person events of the SCA, you acknowledge and accept the potential risks. You agree to take any additional steps to protect your own health and safety and those under your control as you believe to be necessary.