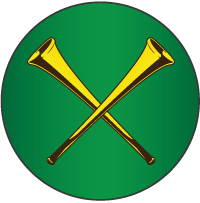 At the 49th Pennsic War, Their Excellences did hold their Pennsic Provincial Court.
After words of greeting, Their Excellencies gave thanks to all who make their Pennsic camp possible: Arnora Ketilsdottir for her role as Pennsic camp coordinator, Brandr Aronsson for his role as Pennsic land agent, Mathghamhain Ua Ruadháin for planning the organization of the camp, and Alienor Salton for her help in keeping the camp running.
Then Østgarðr favors were spread amongst the populace that had yet to receive one, and once that was done all Østgarðr fighters were asked to enter court to accept the praise of the Vicereine for inspiring her reentry into their craft. One of these fighters, Perez ben Meir Gershorn, was subsequently called back into court to be presented with his Silver Tyger medallion due upon him, as it had been granted in the ethereal realm (the scroll unfortunately still within the ethereal realm that is the postal service).
Their Excellencies also were able to induct Jacqueline Helene Loisel into their Order of the Silver Lantern, a task started in AS 54, for her work in the creation and teaching of garb making. As for other bestowal of awards, They added Berakha bat Mira v'Shlomo to their Order of the Sea Dog for her studious work of promoting the learning of arts and sciences within Whyt Whey, Ragnarr bliskegg to the Order of the Silver Sea-Lion for his martial prowess, and Drasma Dragomira to the Order of the Seahorse for her work as provincial herald.
Several members of the populace also presented business within the court. Ragnarr bliskegg presented Their Excellences with a knife he made, topped with the image of one of their yaks and the handle comprised of the bamboo battled with to hold the coronation banners. Alienor Salton, along with a few others, conducted a ceremony tying the lands, water, and air of Østgarðr to their home at Pennsic, and Mathghamhain Ua Ruadháin petitioned for the completion his years long quest in finding Their Excellencies' yaks by ensuring their and their caretaker's future needs via a donation to The Kamzang Fund in the name of the Province, of which Their Excellencies, upon consultation with the wronged party, granted.
And thus concludes the second to last court of Their Excellencies Suuder Il-Khan and Lada Il-Khatun, held the 11th of August, AS 57.
~~~~~
Drasma Seahorse
Østgarðr Herald