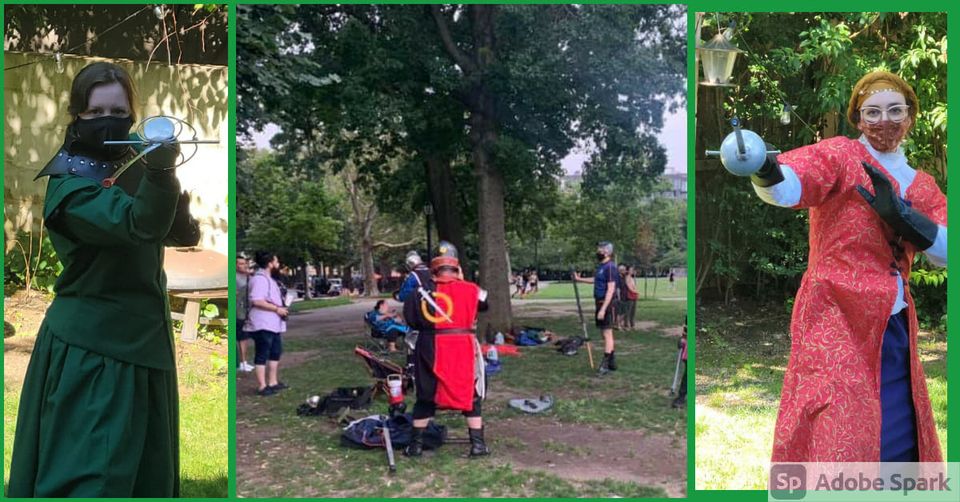 Join the NYC chapter of the Society for Creative Anachronism for our weekly outdoor practice, held on Tuesdays (weather permitting) in McCarren Park.
Do you want to learn to fight like the knights of the middle ages? Our Armored Combat practice is a full contact sport. We fight with heavy wooden weapons made from rattan and wear metal and leather armor for protection.
Do you want to learn fine control of the blade like the duelists of the Renaissance? Our Historical Fencing practice is a limited-contact sport. We fight with light metal swords and wear protective gear and fencing masks to keep each other safe.
Do you want to dance and sing like the bards and entertainers of yore? Regale our group with a story or learn one of the simple dances or choral numbers that people enjoyed five hundred years ago.
We meet on the third ballfield, close to the center entrance from Driggs Avenue; visit our directions page for maps: https://ostgardr.eastkingdom.org/directions/mccarren-park/
If you are joining us in McCarren park, please bring proof of your COVID vaccination or a negative test result from the last 72 hours, as well as a valid photo ID. And don't forget your mask!
Although the SCA complies with all applicable laws to ensure the health and safety of our event participants, we cannot eliminate the risk of exposure to infectious diseases during in-person events. By participating in the in-person events of the SCA, you acknowledge and accept the potential risks. You agree to take any additional steps to protect your own health and safety and those under your control as you believe to be necessary.
Masking Requirements. All attendees at indoor events are required to wear masks in compliance with the East Kingdom COVID policy.
COVID Event check-in process. All attendees who are eligible to be vaccinated still need to show either proof of full vaccination or a medically-supervised negative COVID test taken within 72 hours of the in-person gathering. Event staff will continue to check this documentation. Attendees over the age of 18 also still need to show a gov't-issued photo ID or SCA blue card with the same name as the vaccination card/negative test results.
Host/event staff no longer need to collect contact tracing information.
As part of the check-in process for attending an in-person gathering, the ATTENDEE will sign a form attesting to the following: "By signing below, you are confirming that you have presented proper identification, along with either proof of being fully vaccinated or a negative COVID test taken within 72 hours prior to the start of the event. (If you present proof of a negative COVID test it must comply with the current SCA COVIDSafe rules)".