Thank you to Lady Lilie Dubh inghean uí Mórdha, Pantheon Herald, for contributing this peek behind the curtain at the functioning of the East Kingdom's heraldic submissions office, led by the Blue Tyger Herald. — Ed.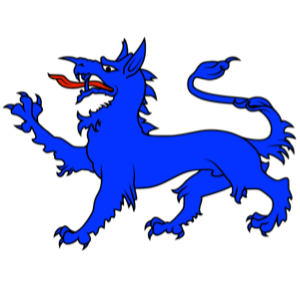 Coffee in hand, I sit down at my desk and turn on my laptop. Sounds like a normal morning in the modern world? Partially, it is. Email first…
The Crown Province of Østgarðr is one of many baronies, shires, cantons, and other groups that play within the lands of the East Kingdom, and all submit heraldic items to the Blue Tyger Herald for review and registration. Generally, the East Kingdom has the most heraldic items in all the SCA in any given month or year, with Pennsic alone providing about half of the Kingdom's yearly submissions.