Three prizes went unclaimed from the raffle at the King's and Queen's A&S and Bardic competition on Saturday, February 10 2018 (AS 52). They are:
Lot Red 21 – Ticket Red ending -033: A Royal blue needle and sewing roll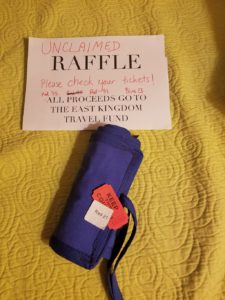 Lot Red 4 (?) – Ticket Red ending -071: A dragon-head wrought-iron paper-knife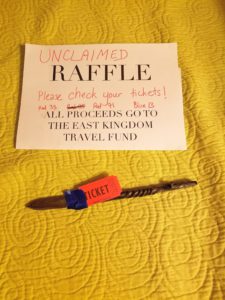 Lot Blue 17 – Ticket Blue ending -013: A body painting kit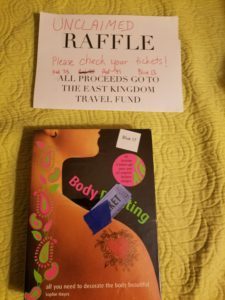 Please contact the raffle organizer to arrange collection. After February 28, 2018, unclaimed prizes will return to the keep of the Kingdom to increase the store of largesse and gifts Their Royal Majesties may at their pleasure bestow.