Our event venue is the Glenwood Landing American Legion Hall at 190 Glen Head Road, Glen Head, NY 11545, located on Long Island about 15 miles east of New York City.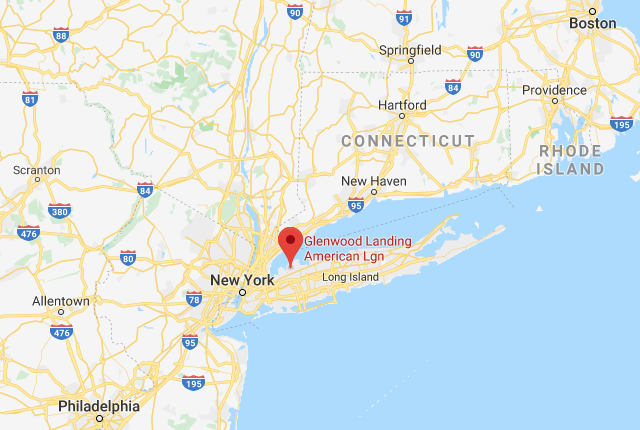 By Plane
The site is about thirty minutes by car from both Kennedy (JFK) and LaGuardia (LGA) airports.
By Car
Take your best route to the Long Island Expressway (L.I.E. or I-495). Take the L.I.E. to exit 39 (Glen Cove Rd). At Glen Cove Road, turn towards Glen Cove and proceed north for five miles. At Glen Head Road, make a sharp left and drive for a quarter of a mile. The Legion Hall will be on your right, just after the. fire department and the community center.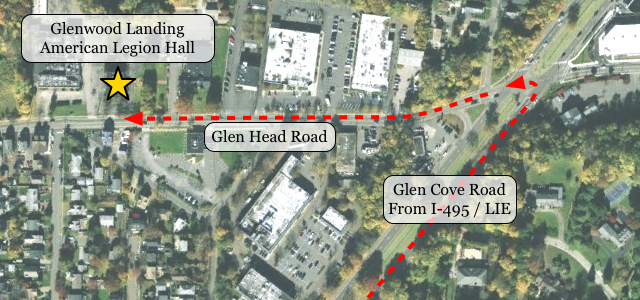 By Train
*** Update, January 1 ***
The Long Island Railroad has announced altered service for the day of our event due to track work to replace switches. Trips from New York City to the event site will take slightly longer than they would normally, and require transferring to a bus for part of the trip.
If you encounter trouble as a result of this disruption, please call Mathghamhain (917-502-7795) or Alienor (917-204-1175) and we'll help you figure it out.
Rides on the LIRR train from New York City's Penn Station take about 1.5 hours and cost $10.25 each way. (Buy your ticket at a kiosk in the station before boarding to avoid the surcharge for purchases when on board the train.)
From Penn Station, take the Hempstead-bound train at 8:21 AM, 10:21 AM, or 12:21 PM, and get off an hour later in Hempstead. Catch the n40/41 Nicebus around the side of the train station, going towards Mineola. (They are cross-honoring fares for this disruption, so just show your train ticket to ride the n40/41.) At the Mineola intermodal station, transfer to an Oyster-Bay-bound train that arrives at Glen Head at 10:05, 12:05, or 2:05.
Note that the Glen Head stop is immediately after Greenvale. (Do not be misled by the similarly-named Glen Street or Glen Cove stops which are slightly further along the same line.)
The hall is a third of a mile from the Glen Head LIRR train station, or about a seven-minute walk. Just continue along the path of the train one block, then take a right when you reach Glen Head Road and walk for four blocks until you reach the Legion Hall.
Volunteers will provide a shuttle service, ferrying event attendees between the station and the event venue. If you are at the station and require assistance reaching the site, please call Mathghamhain (917-502-7795) or Alienor (917-204-1175).
Evening service has returning trips at 3:55 PM, 5:55 PM, 7:55 PM, and 9:55 PM with similar connections via bus from Mineola to Hempstead for trains that arrive in Penn Stations about an hour and a half after your departure.