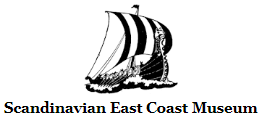 May 19, 2022
On behalf of the Scandinavian East Coast Museum, I would like to thank each of you for participating in Viking Fest 2022.  Last year, we could only have performers, due to Covid.  This year we were able to add food, rides and re-enactors.  Incrementally, we are getting back to what our event had been.
They're back.  It is so nice to have the SCA –   Østgarðr join us again this year for their exciting and educational displays and demos under the leadership of Catelin.  Also, the trial was such a big hit with the kids and adults – Tusen takk – a thousand thanks.
A shout out to our Rune Reader – Eileen aka Randgrithr. She also had connected me with a botanist who had planned to come, but got ill that day. Sorry she was unable to do the interactive Traditional Dance from the Harz Mountains that is connected to Norse mythology. The rain prevented it. Tusen takk!
And our wonderful performers were a big hit. Ellen Lindstrom our favorite Swedish meatball on accordion, Clann Eireann Pipers from Bay Ridge and Redhawk Council even though the weather washed out their performance, they showed up, I am looking forward to seeing them next year. And I would be remiss not to include Crazy Carlsen on games. Tusen takk to all!
It was so special to have Scandinavian food from Sporting Club Gjoa ( the oldest independent soccer club in the U.S.) made by the talented Hege and served with her crew. It was delicious, a real treat. Tusen takk!
So great to Norwegian Baked with Hedvig and company back providing her delicious Norwegian flatbread made in Brooklyn at BAT, about 8 blocks from the event. What a nice addition to have those beautiful blue and yellow cookies. All proceeds raised for the latter will be donated to benefit Ukraine. Tusen takk!
The Rosemaling Society has been part of our event I think from the start for about 20 years. I am sad they will be disbanding, but hope the individual artists continue to practice and share their craft. Tusen takk!
The Owl's Head Horticulture Group who keep the lovely park in which our event is held lush and lovely and offered a display of historic photos for the day. Tusen takk!
Unfortunately, we had some rain towards the end of the event, but we were able to salvage most of the day. Best of all, the community came back and we could share our Scandinavian history with them through our positive synergistic efforts.
Best,
Victoria Hofmo, President
Scandinavian East Coast Museum
—
Posted at the request of
Nagashima Ichiro Ujimichi
長島 一路 宇治道
He/Him/His
Østgarðr Seneschal