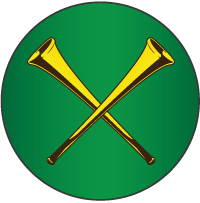 Among the spectacle of the Fort Tyron Medieval Festival, Their Excellencies Angelica and Sofya did hold court. First, they attended to the matter of the selection of Østgarðr's new Armored Combat champion, calling in their previous champion Padraig O'Bradaig, called Samson, to announce the results of the contest. Samson completed his duties by passing on the honor to Albrecht Anker, who had showed great prowess in besting the many competitors in the day's tournament.
Their Excellencies then invited up Ervald LeCoudre Edwardson the Optimistic to pass on the honors granted for two previously awarded awards: the scroll for his Silver Tyger that was previously granted during one of the Kingdom's Ethereal courts and his scroll and medallion for his Silver Lantern, granted two Viceregencies ago for his skills in the bardic realm.
Completing their award business, Their Excellencies called up Pia Maletestra d'Rimini, called Erlan, to be inducted into the Order of the Seahorse for her continuous service to the Province; business that this time was only previously slated for two courts ago.
Continuing onto resolving previous business, Their Excellencies did request that the populace in attendance be awarded two Sea Stars: one for their role in today's event and one for the populace's service in making The Feast of John Barleycorn and Østgarðr Investiture a success.
Mathghamhain Ua Ruadhain was also invited up to speak as the event steward and was given many thanks for his continued work in making the Cloisters Demo a success for many years.
And this concludes all the business conducted during Their Excellencies court, held during the Cloisters Demo in the Canton of Whyt Whey on the second of October A.S. 57.