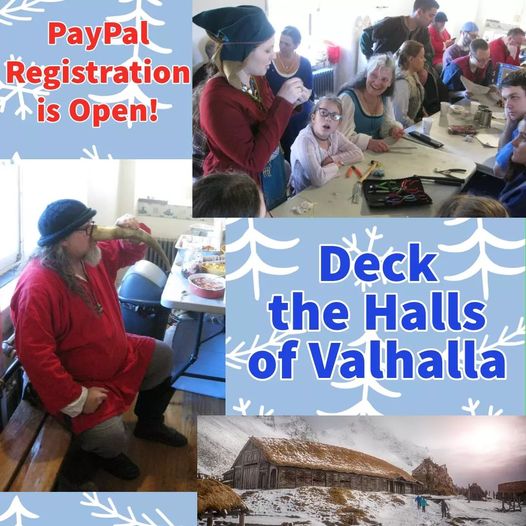 Join the Canton of BrokenBridge for Deck the Halls of Valhalla, a returning annual new year celebration.

 Classes

 Bardic Competition and Performances

 Non-alcoholic drinks tasting

 Delicious lunch will be served

 Medieval themed gift exchange

 Court of Vicereines of the Crown Province of Østgarđr
Where: Purgatory 675 Central Ave Brooklyn, NY 11207
When: Saturday January 14, 2022 10 a.m. – 5 p.m.
Registration Fees:
Member registration fee will be $25
Non-Member registration fee will be $30
Children 4 – 17 will be $15
Children under 4 will be free
Check out the official Event Announcement on the East Kingdom Website: https://www.eastkingdom.org/event-details/?eid=4075
Pre-reg link: https://surveys.eastkingdom.org/index.php/276753
If you'd like to teach a class please contact Nagashima Ichiro Ujimichi at: 103596@members.eastkingdom.org
Health Acknowledgement
Although the SCA complies with all applicable laws to ensure the health and safety of our event participants, we cannot eliminate the risk of exposure to infectious diseases during in-person events. By participating in the in-person events of the SCA, you acknowledge and accept the potential risks. You agree to take any additional steps to protect your own health and safety and those under your control as you believe to be necessary.