updated 8/14/2022
The will be held on at beautiful Putnam County Veterans Memorial Park
Putnam County Veteran's Memorial Park
201 Gypsy Trail Road
Kent, NY 10512
The event is held in the Upper Park (4-H fairgrounds). Look for SCA signs.
You may learn more about the event site from their public website here.
**Important message regarding fire restrictions
As you are aware most of the country is going through severe weather conditions. Our area is no exception. Due to severe drought in Putnam County, our event site, a county park, has prohibited all open or shielded flames, including candles, lamps, or lanterns for light or heat, individual camp fires, or any wood, propane, coal or other burning matter based cooking or camp stoves, grills, or hibachi…. And, yes, this includes peat and dried dung.

We regret that these cherished options are not available to us during this very dry time. To provide some level of comfort, we will have coffee urns and hot water for beverages available each day until 10 PM Friday, Saturday and Sunday along with snacks for those camping. We are also adding locations of local grocery stores to the event website, and will have menus available for restaurants that deliver for those not prepared with adequate provisions for evening and morning meals.
The good news is that we are permitted one designated centrally located grand campfire, and hope that you will gather around its warmth and light prepared to share your music and stories.
     As with any rural treed campsite, we share it with local wildlife, so please avoid inviting Raccoons, Coyotes (yes, real Coyotes!), and Skunks (otherwise known as Camp Kitties) to your meals….and your trash stash.   Please promptly remove trash to the provided dumpster, and secure all edibles to closed (as in tightly sealed box or cooler, not a closed plastic bag) storage….the alternatives could, with animal intervention, be messy, smelly, and downright medieval.  
The event is being held outdoors. All attendees should dress accordingly and consider the possibility of inclement weather when planning.
Site Map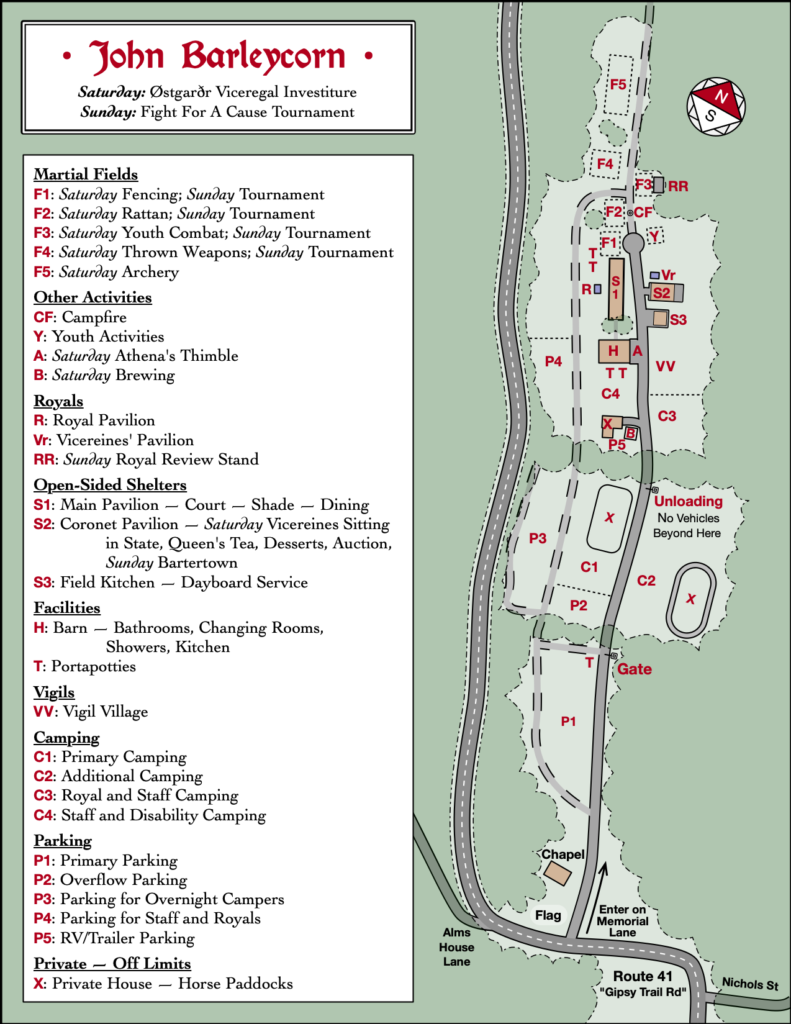 Site Rules
Do not tie anything to the trees or shrubs or damage them.
No smoking in the park.
The park does not allow pets.
Campfires, camp stoves, or open/closed flames are not permitted to be used on site by event attendees.
The site is very discreetly damp. Please use period containers only. All empties must be disposed of off site.
Do not park cars on the grass unless the area is specifically designated for parking.
You may drive up into the site beyond parking if you have an handicapped tag to unload, but then you will need to move your car to parking.
Amenities
The event is being held outdoors. All attendees should dress accordingly and consider the possibility of inclement weather when planning.
Bathrooms: Bathrooms with flush toilets and diapering stations are located inside the barn, plus additional port-a-johns throughout the site.
Showers: There are 2 showers behind the barn that are available for attendees to use
Seating and Shade: Please bring your own seating for Court. There are several covered pavilions that will be available for shade. There are also a number of picnic tables available for use.
Changing: We will have changing areas set up.
There is limited electricity at this site.
Parking
Parking for the event is free on site. There is a significant walk (approximately 650 ft.) from the parking area to the main tournament fields and main event area, and due to site road limitations, non-event staff vehicles are not allowed past the parking area without a handicapped tag on Saturday or Sunday. Please plan for transporting your gear to the main area of the event.
Please note, campers arriving on Friday only are allowed to drive past parking to unload, but must then return their cars to the parking area.
Accessibility
The site is outdoors with significant slopes in some areas and some rough pathways. If you have accessibility questions or concerns, please email the autocrat, Lady Aurora ffolkes at aroarofolk@gmail.com