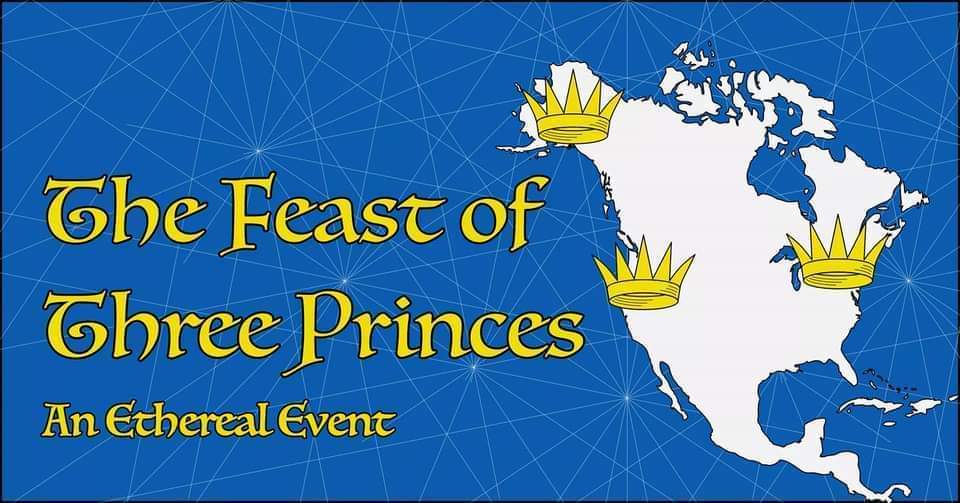 A virtual feast, hosted by the Crown Province of Østgarðr on November 8, 2020 at 7pm Eastern time.
Come join the Crown Province of Østgarðr for The Feast of Three Princes, an ethereal celebration of brighter times through food & comradery, story & song. Help us bring alive the joys of the Eastern feast hall in a safe and socially distanced manner.


The First "Feast" of Three Princes

The day of the Eastern Crown Tourney is always a momentous one. Yet few such days are as auspicious as that of 3rd November, A.S. LIII, when Ozurr the Boot-Giver emerged victorious and was crowned Prince of the East. For on this same day, far in the West, Ozurr's knight, Sir Antonii Machinevik, prepared to step down as Prince of the Mists, whilst Antonii's own knight, Sir Culann mac Cianain, reigned as Prince of Oertha. And it was good fortune that despite the great distances between them, word spread quickly, and all three did rejoice at being Princes together for that short time, and, though far in body, celebrated still with good food and friendship, each dining on a sumptuous board of tacos in their respective locales.

And so it is that we invite you to join us to commemorate that day as the Feast of Three Princes, and let their example serve as a reminder, that though we may be distant, the ties between us bring as close.


An Ethereal Feast

Welcome to the virtual hall (brought alive through Zoom). Deck yourselves in your finest raiment, set your best table and prepare to spend an evening with fellow SCAdians from across the Known World.

The evening will take the form of a three course feast, with entertainment and ceremony held in the main hall, and with conversation and good company at the virtual tables (breakout rooms). Shake off your isolation with friends, both old and new, as we gather in celebration, all while maintaining a safe distance.

We ask that all planning to attend pre-register (details below), and select from one of our many 'themed' virtual tables, or specify fellow attendees you wish to be seated with.


Foods of Varied Delights

Cooks, both novice and experienced, can take pleasure as you prepare an historically informed feast in your own kitchen, to your own standards and specifications. Our team of chefs will craft three cookbooks, each providing complete recipes from one of three different cultures in the SCA period, all designed to be prepared in the home kitchen. You may choose to cook a meal from a single cuisine, or for the ambitious, you may combine the recipes into a three course feast. The team of chefs will provide a series of online classes and videos to show some of the preparations, and they will make themselves available to answer questions as you plan your personal feast.

Those with dietary restrictions or who wish to prepare other cuisine are, of course, welcome to join the event with whatever food they choose.


A Bardic Challenge

In honor of The Feast of Three Princes, the Crown Province of Østgarðr invites bards and performers of all kinds to participate in a bardic challenge, with themes selected by Their Excellencies, Jarl Ozurr the Bootgiver, Viscount Antonii Machinevic, and Viscount Culann mac Cianain. Performances may involve vocal music, instrumental music, spoken word, or any combination of the above. Performances may be period or ¨period-esque", and no documentation will be required.

Performances may be on any one of the following themes:
– Family
– Connecting over distance
– Shared experience
– Interkingdom anthropology
– Lineage
– Tacos

The first round will be conducted in advance of the event, and the finalists will be invited to perform between the courses of the ethereal feast. There will be a prize for the winner, to be announced.

Please send your video recorded entries to houseofthelotus@gmail.com by the end of the day on November 1, 2020. Finalists will be notified by November 6.

For those who wish to perform but not compete, the main Hall will remain open after the last course for an open Bardic Exhibition.

A Night to Remember

The first 200 gentles who pre-register for the Feast and provide a mailing address will be sent a postcard commemorating the event, created by Viscount Culann mac Cianain. To ensure receipt of the postcard before the feast, please pre-register by October 25th, 2020*.

*Please be aware that mail to certain parts of the United States and outside of the US may take longer and the postcard may not arrive before the event.

Site Opens: 7:00 p.m.
Site Closes: 9:30 p.m.
For any questions, contact our event stewards at three-princes-day@ostgardr.eastkingdom.org.