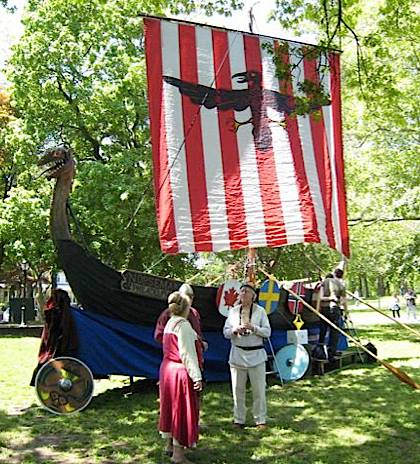 Hey folks!
If you're not committed to the Lion's End Spring Schola, Armiger Catelin Straquhin is organizing an Østgarðr demonstration/presence at the Viking Festival in Owl Head's Park this weekend.
Where: Owl's Head Park Colonial Road & 68 St Brooklyn, NY 11220
When: Saturday May 14, 2022 10 a.m. – 5 p.m. (setup begins at 9 a.m.)
This year's festival is "multi-cultural Viking" themed, so the demo will be focusing on how multiple cultures impact the Nordic world and vice versa. 
If you plan on going, please let Catelin know when you plan to be there and what you plan to bring with you for the demonstration! Armiger Catelin can be reached via email: 245476@members.eastkingdom.org
Parking: There is no parking allowed in the park; attendees must park on the street. Bring hand carts if needed.
Amenities: Since this is an NYC park, if you can please bring chairs, tables, and pop-ups. For accommodations, email the SCA Demo Organizer 245476@members.eastkingdom.org and we will do our best to help.
The NYC Marathon is also happening that same day, so plan accordingly.
—–
From the East Coast Scandinavian Museum Website:"It will feature: a half size replica Viking ship The Norseman, and its crew;three re-enactment organizations – Historic Arms, the Society for Creative Anachronism and Medieval Scenarios and Recreations.
From 10 – 12 visit our Viking Village. Children can participate in a Viking Scavenger Hunt by answering questions about Viking life while exploring the displays of our re-enactment organizations. Music and dance performances from countries that have a connection to the Vikings from 12:00 – 5:00..
Games, prizes and other Scandinavian delights.
For further info please call 718-748-5950."
—–
Although the SCA complies with all applicable laws to ensure the health and safety of our event participants, we cannot eliminate the risk of exposure to infectious diseases during in-person events. By participating in the in-person events of the SCA, you acknowledge and accept the potential risks. You agree to take any additional steps to protect your own health and safety and those under your control as you believe to be necessary.